Say goodbye to Y1, Y2, Y3 & Y4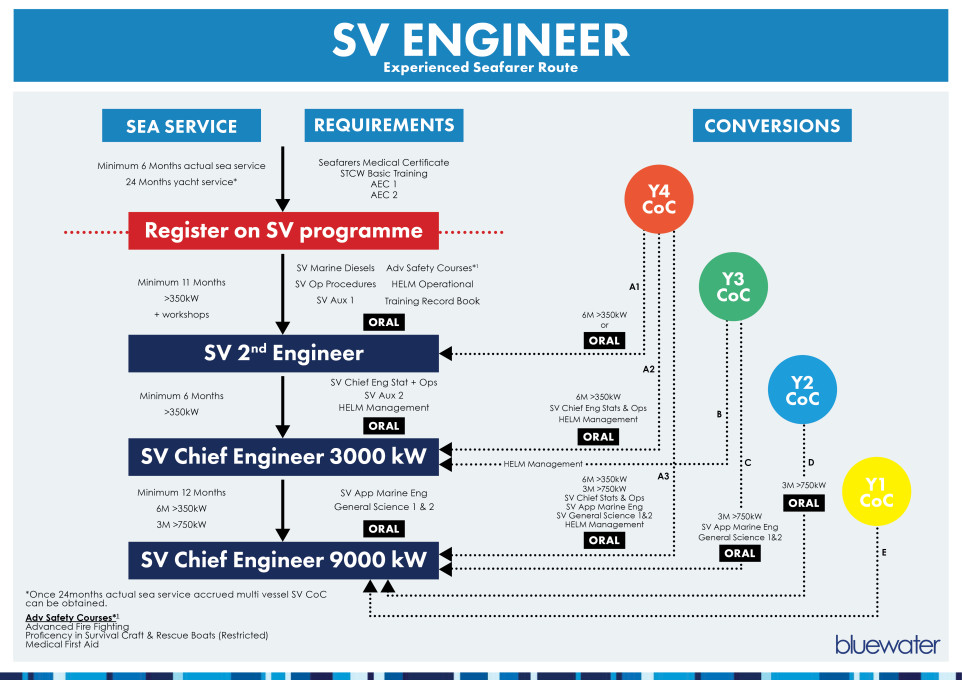 The Y licence NoEs will no longer be issued from 1st January 2022.
This is good news though, once you understand the process and what you need to do to convert.
It's been developed so those of you working on smaller yachts, tugs, fishing vessels, research vessels etc, can ensure your qualifications are relevant to the superyacht industry.
There is however a lot of sea time required for the Unrestricted route, but if you are unable to fulfil this requirement there is a Yacht Restricted route for you.
If you still hold a Y ticket that you want to revalidate it is possible, but you should know that Y licence NoEs will no longer be issued and you will need to convert to the SV route.
First Yacht Engineering Qualification
We recommend you register on the Small Vessel 2nd Engineer Programme, as soon as you qualify, if you are not already on your way to completing the Y4.
Prior to registration you will need your AEC1 and AEC2 as these are key to this route.

You need a minimum of 24 months employed in the engineering department on a vessel with engines greater than 200kw.

For the Restricted route:
Six of these months must be underway.

For the Unrestricted route:
If you're working on yachts, 16 months must be at sea.
Between registration and applying for your NoE
As soon as you have met the required sea time, register on the Small Vessels Programme, you can do this with Bluewater or any MCA Approved Training Provider and then you can start filling in the Training Record Book, completing the course modules and adding to your sea service.

Before applying for your Notice of Eligibility you need to accrue another 11.5 months in the engineer department on a vessel with engines over 350kw.

Four months of these must be at sea for the Restricted route on a yacht, and 8 months if you're following the Unrestricted route, as well as covering watchkeeping or UMS duties for 6 of these months.
MIN 524 & MIN 594
Details of the qualifications, conversions and Yacht Restricted Route are outlined in
MIN 524
and
MIN 594
.
The manning tables are yet to be released by the MCA, we will share them here once we have them, but we expect that:
- SV 2nd will sit where Y4 once was.
- SV Chief 3000kw will sit where Y3 once was.
- SV Chief 9000kw will replace Y2/Y1.
The restrictions are similar but we do recommend you check with flag state what SV licences you can accept onboard your yacht.
If you have any questions regarding your ongoing learning, please contact any of our training centres and the team will be happy to help.
Antibes
training team.
Palma
training team.
Fort Lauderdale
training team.